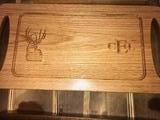 BBQ Board
The 'Original' BBQ Board. This 10" x 24" Board is what you need to bring all of your meat to the grill. Ingeniously designed allowing you to confidently carry the meat from the pit, using the two handles with no worry about juices spilling over due to the neatly placed juice groove.  Makes a perfect gift for your #1 BBQ chef or even for competition cooking teams.
Practical enough to carve meat and attractive enough to be used for serving!
Personalize it by having your "outdoor cook's" name or company or team logo carved into it. See our "Gallery of Images" for inspiration to personalize your board.
**Juice Groove and Handles Included in Price so you don't have to add those items to your cart.