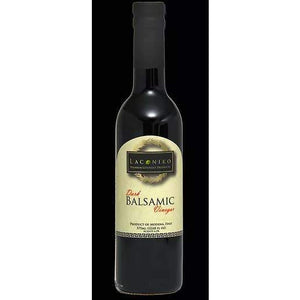 Rum Dark Balsamic Vinegar
Our dark platinum balsamic is obtained from the maturation of cooked grape must of Trebbiano and Lambrusco grapes which are then slowly aged in a battery of fine quality wooden barrels until sweet and dense rich bouquets of flavors are reached. Acidity: 4.5% . Density: 1.34. Size: 375 ml.
Produced in Modena Italy with aged Trebbiano and Lambrusco grapes following the strict production traditions and principles of Modena.

Naturally made with NO sweetening, No thickening, No Flavoring, No colorant agents and no added sulfites.

100% Natural Sugars (NO added Sugars, EVER!)

Extremely high density of 1.34 for our Platinum Label and 1.29 for our Gold White Label

Aged in decades old oak barrels which add flavor and complexity to our Balsamic condimento.

Intense aroma and very dense, balanced and refreshing yet mature and incredibly Versatile.