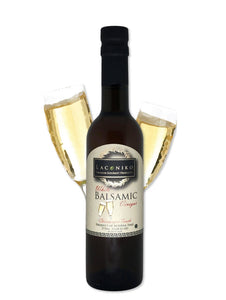 Champagne Touched White Balsamic Vinegar
Our Champagne Balsamic is a masterful pairing of all-natural Champagne flavoring with our aged White Balsamic vinegar from Modena, Italy. Clean, tart, and crisp, with just the right amount of acidity, this exquisite vinegar introduces a flavor of the Mediterranean that will bring your food to life! This balsamic is excellent for use in vinaigrettes, marinades, rich pan sauces or wherever a clean pitch-perfect acidity is desired. Excellent to serve over grilled fresh apricots & seasoned ricotta cheese as an appetizer, or on top of strawberries and whipped cream. It complements a rack of lamb, grilled chicken and smoked pork.
*Pairs well with our Tuscan Herb, Basil, and Original extra-virgin olive oils.